Christine Cahoon Tue 10 Jul 2018
Promoting the arts
"Our long journey"
Create your own blog section
Promoting the arts
This month, Platypus have the pleasure in hosting two web sites from two local, gifted artists who use their talents to entertain us through the written word and through opera: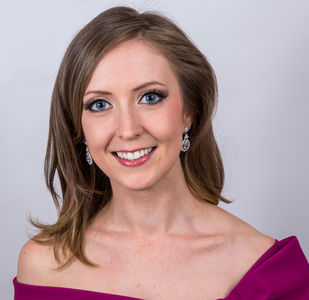 Sarah Richmond, as well as running a successful business performing at a wide variety of events providing "Music to Make Your Day", Sarah sings in operas throughout the UK. She will be performing Valencienne in The Merry Widow on 3 and 4 August 2018 at the The Millenium Forum, Newmarket Street, Derry:

http://www.sarah-richmond.com/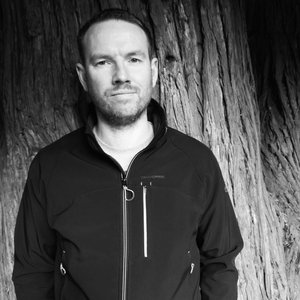 Jamie Guiney has just announced his debut short story collection 'The Wooden Hill' is due out for publication this year with Epoque Press:

"Our long journey"
The Vespa World Days Belfast 2018 was advertised in previous notices. I was treated to a special guest access pass, thanks to Mark and Maggie Cooke. Here are my reflections on Belfast and this amazing event:
http://www.ronjea.com/cgi-bin/blog?instanceID=1&do=show&blogID=978
Create your own blog section
If you'd like to write about anything that adds value to your company and audiences, why don't you create your own blog section/subsection. It's easy for any web site that uses ETINU, just follow the instructions available at:
http://www.etinu.com/cgi-bin/generic?instanceID=19
Christine Cahoon Wed 13 Jun 2018
England's smallest, remotest school
Adding content from Word to a generic section type
It's this week... Vespas galore!
England's smallest, remotest school
We have pleasure in hosting Kielder First School and Little Squirrels Nursery, http://www.kielderfirstschool.org.uk/. This school is in the small, remote village of Kielder Village, western Northumberland, England. It's a playful web site and shows the charm and activities of the school through its photos and events calendar. From other sections, its obligations and policies can be viewed.
Adding content from Word to a generic section type
Using these section type, allows you to add whatever content you like, in whatever way you want. However, copying and pasting from Word, will copy Word's invisible characters that includes style elements so will override your site's design styles. Here's a few tips to avoid them when pasting content:
http://www.etinu.com/cgi-bin/blog?instanceID=1&do=show&blogID=745
It's this week... Vespas galore!
In January we let you know that the Vespa World Days 2018 event is coming to Belfast. Well, it's this Thursday 14 until Sunday 17 June... you'll start to see Vespas arrive from all over the world. They are having rideouts from Titanic to Crumlin Road Victorian Gaol, Ulster Folk and Transport Museum, Carrickfergus Castle in different days! Everyone give them a welcome if you meet them or a wave as they drive passed! See: http://www.vespaworlddays2018.co.uk/ or visit their Facebook page: https://www.facebook.com/VwdBelfast2018/
Christine Cahoon Fri 18 May 2018 updated: Tue 22 May 2018
A notice to all clients—news and information that may be of interest to you...
Caring for children
You couldn't miss it... General Data Protection Regulation!
How can I get the link to a specific blog post?
Caring for children
We are pleased to host The Rocking Horse Nursery and Play Station web site, http://www.rocking-horse.org.uk/. The Nursery have been serving the community in Greenisland for more than 35 years. It has given children a warm, secure and nurturing environment to stay while giving parents the peace of mind they need as they return to work. Their web site contains information about their ethos, staff, policies, activities, facilities and services they offer.
You couldn't miss it... General Data Protection Regulation!
If you've ever subscribed to a service, you will have heard from that service recently (even from those you'd forgotten you provided an email address to) regarding the new regulations coming in force on 25 May 2018, https://ico.org.uk/for-organisations/guide-to-the-general-data-protection-regulation-gdpr/. These set of regulations are designed to provide protection around personal data, even if it's just a name and an email address. We would like to make you aware of our updated privacy statement in relation to the personal data collected from our web sites, http://www.etinu.com/ and http://www.platypusconsultancy.com/, see: http://www.platypusconsultancy.com/platypusconsultancy/static/privacy-policy-statement.html
How can I get the link to a specific blog post?
We encourage people to write about their expertise and events they've organised using their site's blog. Writing a blog post is one thing but you need to advertise it too. This blog post outlines how to copy the link of the actual blog post that's been written so you can send the link in a mailshot, place it in a tweet in Twitter or a post on LinkedIn, see: http://www.etinu.com/cgi-bin/blog?instanceID=1&do=show&blogID=759
If you have any questions about any of the above, please feel free to contact us.
Christine Cahoon Tue 13 Mar 2018
To Keep Northern Ireland Beautiful
ETINU's "tag cloud" feature
Track your marketing campaigns
To Keep Northern Ireland Beautiful
Platypus have the pleasure in hosting the Keep Northern Ireland Beautiful web site, http://www.keepnorthernirelandbeautiful.org/. This charity runs a number of programmes throughout the year, such as: The BIG Spring Clean; Green Coast Award; Green Flag Award; Adopt A Spot. Its aim is to improve environmental education in Northern Ireland schools, increase public engagement for communities in need and raise environmental standards for the places where people live, work and relax.
ETINU's "tag cloud" feature*
*The tag cloud feature is available in a few section types, namely in: blog; gallery; and publications. Keywords that you specify for any blog post, photo or publication, appear in the tag cloud enabling you to categorise them. Anyone looking at the cloud instantly sees the most popular themes by the size of the corresponding keywords. More details at:
http://www.etinu.com/cgi-bin/blog?instanceID=1&do=show&blogID=743
Example of the tag cloud in Keep Northern Ireland Beautiful's blog (right of the page):
http://www.keepnorthernirelandbeautiful.org/cgi-bin/blog
Example of the tag cloud in Real Music Club's 2017 gallery (select the tab "Tag cloud"):
http://www.realmusicclub.com/cgi-bin/gallery?instanceID=10
Track your marketing campaigns
There are many ways to market your products and services, but it's worthwhile tracking the success of each marketing campaign such as sending a link in a mailshot, posting on Facebook or Twitter, or placing an Ad on Google Adwords. Using Google's simple campaign URL (web address) builder tool will help you keep track of how successful each activity is (https://ga-dev-tools.appspot.com/campaign-url-builder/). By using the web address that the builder generates, you can monitor matching web traffic in Google Analytics. For more details, see:
http://www.platypusconsultancy.com/cgi-bin/blog?instanceID=1&do=show&blogID=397
For more information about ETINU, see: http://www.etinu.com/, and feel free to forward any questions about ETINU or your web site.
Christine Cahoon Mon 12 Feb 2018 updated: Tue 13 Mar 2018
Booking a holiday made easy
Mouths of the Farset!
Check your site's metatags are up-to-date
Check what keywords visitors use to get to your site
Booking a holiday made easy
Platypus are pleased to host the Florida Manor Estate web site, http://www.floridamanorni.com/. This site has a booking system that uses Stripe to enable visitors to reserve and pay for a holiday in one of their three luxurious apartments. Within easy reach of Belfast, Comber and Bangor, the estate dates back to 1676 and lies in 200 acres of extensive landscaped grasslands, private lakes, walkways and bridal paths.
Mouths of the Farset!
The Tangible Leadership Series 2018 is coming to the Skainos Centre (http://www.skainos.org) in Belfast on the afternoon of Thursday, 22nd February 2018. I will be speaking at this event, which is entitled 'Mouths of the Farset!'. I will be talking on changes in technology and my observations along the way. If you would like to speak at this event or be in attendance, there are more details at: https://www.tangible.ie/2018/01/29/tangible-irelands-mouths-of-the-farset/
Check what keywords visitors use to get to your site
This blog post directs you to a helpful report within your Google Analytics account and explains how you can identify the key words that have good average position but poor click-through rate, so you can improve the site's content: http://www.etinu.com/cgi-bin/blog?instanceID=1&do=show&blogID=664
For more information about ETINU, see: http://www.etinu.com/, and feel free to forward any questions about ETINU or your web site.
Christine Cahoon Fri 19 Jan 2018 updated: Tue 13 Mar 2018
A big event happening this year
ETINU's section types
When to use the section types, blog and newsitems
A big event happening this year
Platypus are pleased to host the Vespa World Days Belfast web site. This event will be taking place on 14-17 June 2018. Held every year in a different city, this year it's coming to the Vespa Village in Belfast's Titanic Quarter. If you're in Belfast in June, watch out for more than 4,000 Vespa scooters from over 320 Vespa clubs within 32 countries coming your way!
http://www.vespaworlddays2018.co.uk/
ETINU's section types
This blog post gives at-a-glance information with a series of screenshots and simple explanation of how each section type displays content and their different features:
http://www.etinu.com/cgi-bin/generic?instanceID=19
When to use the section types, blog and newsitems
This post describes the differences between using newsitems for timed content and the blog that displays the content permanently with various options for finding content:
http://www.etinu.com/cgi-bin/blog?instanceID=1&do=show&blogID=710
For more information about ETINU, see: http://www.etinu.com/, but if you have any questions about ETINU or about any of our services, please do not hesitate to contact us.
Christine Cahoon Mon 15 Jan 2018

At the end of last week we had cause to upgrade the performance of a number of web sites by up-sizing the server instance they were hosted on. It occurred to me just how much easier life has become since we began living in a cloud.
Upgrading a server is a breeze compared to the 1990s when we were hosting all our own internet services on our network, then later in our own racks in Telephone House in Belfast (the network "head end" for Northern Ireland). When renting data centre real estate we were in a situation that was much more prone to downtime, fraught with stressful incidents if anything went wrong, and costly.
For more than ten years now we've been using Amazon Web Services, http://aws.amazon.com/ creating our own resilient hosting environment for all our internet services in a rather large and well equipped cloud. All services are monitored, system updates are easily performed regularly, and snapshots, which capture the complete content of each server instance (operating system, databases, application software and other resources including all data), are taken daily for backup purposes.
Within the AWS global cloud, each server instance has been built by ourselves to our specification and tuned for our ETINU software. When demand arises, another server instance can be created or an existing instance upgraded with minimum ado. For most new instances we take a snapshot of our most recent server configuration to create a new source image then launch the server instance using that image.
Once a server instance has been set up, it is automatically charged at a price for on-demand per hour usage. However we can negotiate "reserved instances", an accounting device that allows us to commit to "always on" server instances over a fixed term and thereby reducing the cost.
We performed an upgrade on one of our servers at 04.45 this past week. There was no user activity or network traffic at this time and the new larger instance was running with negligible downtime of service. Tests after restart showed that the server had boosted performance as expected.
We sometimes hanker after the good old days but I, for one, am very glad we've moved to cloud hosting where, not only is an upgrade easier, but hardware, security and environment are also taken care of.

Christine Cahoon Thu 07 Dec 2017 updated: Fri 08 Dec 2017
We informed our ETINU clients about the snowing effect they could add to their web site. A few added it immediately... here's some of their comments...
Mark Cooper of Cooper and Lansbury:
"Awesome!! It's snowing at Cooper and Lansbury :-) Thank you. I love it!"
Nicola Keating of Activefeet Podiatry:
"A massive thank-you! I love it!! thank you so much!"
The way ETINU works is that when a new feature is created for one site, it can be used on other sites. So everyone benefits.
This is our code, no copy-and-paste from coding sites so we can stand over whatever we introduce.
Christine Cahoon Tue 10 Oct 2017 updated: Wed 11 Oct 2017
Went to http://www.bluemountain.com/ today and received an Apologies page with a message displayed:
"We're in the process of updating our site to serve you better. We appreciate your patience."
With the advances of cloud computing, companies who run online services should be able to upgrade easily with minimal downtime.
Ideally, keep the web site up and running on one server while the upgrade is being performed on a mirror server.
When the upgrade is complete, all that is required is to switch over to the upgraded server. You would need to be in charge of your domain name servers to control where the web site is being pointed to.
In our experience, as we've followed this process over the years, you should have zero (or minimal) downtime.
Learn more about our infrastructure and common practice.
Christine Cahoon Fri 25 Aug 2017
2016 was the year we made all our client's web sites that run ETINU (web content and user management software) responsive, that is, the content adapts to any device size... even the 'old' web sites!
Thinking that was it done and dusted, we decided that this year we would make our own site responsive... but trying to make time between projects is difficult.
At last, we've made it live... however, we're happy to #putclientsfirst!
Any oddities let us know, thanks!
Christine Cahoon Thu 01 Jun 2017
Use Google Analytics opt-out plug-in to prevent a PC on your office network having its data recorded. Just download and install the plug-in in the web browser.
By default, the data gathered and reported in your Google Analytics account includes all your office traffic as well as the public traffic. If your Google Analytics view is not filtered to prevent this office traffic from being recorded, it can distort the reports for you to really understand what the public are doing on your web site.
The Google Analytics opt-out add-on is designed to be compatible with Chrome, Internet Explorer 11, Safari, Firefox and Opera.
Alternatively, you can add a filter in your Google Analytics account view if you know, for example, your IP address, that you are viewing the site from. If you would like to discuss the options, please don't hesitate to contact us.
Christine Cahoon Wed 26 Apr 2017
Today is my MBP's first anniversary of being baptised... 26 April 2016. I remember the morning very well. How could I forget?!
I'd brought in a pint of water to my desk, set the glass on the desk near my open laptop, I sat down and promptly knocked the glass over baptising my Mac and flooding my keyboard. I near froze, horrified at what I had done. Ran into the next room to get a towel, sat down and put it on my knee, lifted the Mac upside down over it watching the water pour then drip from the keyboard. Then I realised the Mac was still on. So turned it right way up to turn it off and it conked out! What could I do now?
Panic ensued. Needed to hang it upside down... couldn't think how and what with. But then remembered there was a metal framed laundry basket that had material I could hang the Mac over. Left it there while I went online on another computer to search what to do. I was slightly comforted that I wasn't the only one who'd done something so stupid!
I decided to leave it hanging... occasionally I turned a hair dryer on in a warm setting and directed the airflow gently over the keyboard.
Time for a walk... it would be a while before I attempted to switch it on. While I walked, I wondered what would I lose if it didn't come on... and came to the conclusion, very little, except my pride:
backup was only done the previous day so the contents of the hard disk would be restored
I was developing a web site early that morning and all work was on one of the server instances (we use AWS cloud hosting service).
So I was more relieved... the disciplines of backing up and our development processes we'd formed over the last two decades had counted for something! It was a matter of waiting.
When I got back I continued to use the hair dryer to gently evaporate any water that was left and dry it out. The next morning I figured it was time. Put it on my desk, gingerly switched it on and, to my amazement, everything started up as normal. Tested every key and every one worked.
So was there any lasting damage? No, when we opened the Mac to upgrade it recently, we only found the natural fluff that gets into any computer, was in corners, obviously directed there from the air of the hair dryer.
These days there are so many other measures we need to adopt to prevent sensitive data loss or device compromise in every day scenarios -- business or personal. These include using public wi-fi services when out or travelling, or allowing a stranger to watch us using our keyboard or view our screen, or worse still, losing a laptop or phone, even temporarily. So it's important to do more than backup your devices regularly. Other measures include:
making sure you have to log in to your computer when powered up
making sure it goes to sleep if left idle for a few minutes and require password to revive
preferably make sure all data on your laptop is encrypted
don't leave laptop where it could easily be stolen
ensure your backup is encrypted, or the data is secured in another way
physically secure your backup device
don't use laptop on an insecure wireless network
protect sight of your screen if using in a public place, always close lid if not using
use different passwords for different services
use two factor authentication whenever possible
be very careful about what you view, download or execute.
Many organisations decide to implement the standard ISO 27001 (Information Security), in order to benefit from the best practice it contains to reassure themselves and others that its recommendations have been followed.
Hope you found this useful and will help you think about what backup and discipline procedures you could improve.
Christine Cahoon Fri 24 Mar 2017 updated: Sat 01 Apr 2017
... encouraging Mums (and Dads) as they carry out their daily lives balancing home and work life
I've seen cards, articles and ads written to promote super mums (and I'm sure there are many!) but it made me think… how it can make other mums question our own attempts to bring up children. Are we just ordinary mums?
Background
I've worked since I was seventeen, first as a trainee Computer Operator at Queen's University Computer Centre working my way to a Systems Analyst before leaving to go into business. Though I wouldn't see myself as a career woman, my work has always been important to me. I was a single mum to Abbie. I separated from her dad when she was two, divorced when she was five and went into business when she was seven.
Those of us who work and raise a family (men and women alike) know how difficult it is to make sure you balance appropriate time and energy to each… not always easy!
Abbie's primary school years
Abbie always found it hard to read throughout primary school, and luckily, I found out early that it was because she had dyslexia. It was a worrying time. I spent hours trying to get her to sound out letters and grasp some understanding—when most of the time in the back of my mind, I was probably concerned with some aspect of my own work. Looking back I wonder was I totally there with her!? One thing though I do remember was that I often told her she was loved and could do it (despite worrying my socks off!).
And now...
Time has passed and Abbie has become a confident, inspiring woman and, to my astonishment, she is now in her final year of completing a PhD in Psychology. I can see through the guidance of good teachers, Abbie applying learning techniques to overcome her dyslexia (some of which she still uses today) and a belief in herself (maybe from my belief in her), has got her where she is today.
So whatever you feel... super mum, super dad or just an ordinary parent managing to scramble through each day, know our children can do more marvellous things than you can imagine. Believe in them and tell them you love them despite of how others or you may label you!
Happy Mother's Day!
P.S. It's ironic, Abbie's research is now in education, with a specific focus on how parents may facilitate learning in the home environment, with emphasis on numeracy.
Christine Cahoon Thu 09 Mar 2017 updated: Wed 26 Apr 2017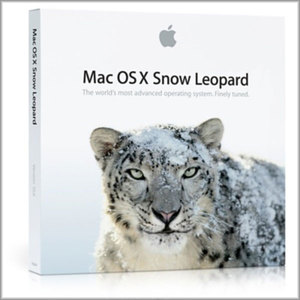 Even though I'd given it a 'baptism of water' a while back (yes, I know... how could I stupidly tip a pint of water over my keyboard!), my Apple MacBook Pro 15" laptop was near seven years old and was showing signs of its age such as:
powering up was sluggish, taking more time that it should;
applications were alerting me that the latest update was available but couldn't be installed because the operating system and hardware were too old;
my old mail package was starting to corrupt mailboxes... and though they were easily fixed, it was understandable when there were more than 400,000 mail messages spread across over 600 mailboxes.
Anyway, it was time... these days most folk are all for getting the latest mobile, laptop or whatever, but I'm into recycling and using what I've got. I didn't want to get rid of my companion yet, physically it is perfect! So research was required on what needed to be done to upgrade smoothly:
replacement for the hard disk and memory that would work with my model
most recent stable operating system to upgrade to (I was still running Snow Leopard, OS X 10.6.8)
review of favourite applications to check they'd work with the new operating system
workarounds and new applications required for those that would no longer work on the new operating system
outline process to ensure all current data was backed up and ready for easy restore onto new system.
El Capitan (OSX 10.11.6) was selected as the best system and a 500Gb solid state device was purchased to replace the hard disk, providing much faster access and twice the capacity, also 2 x new 4 Gb memory cards. Knowing that the original (Qualcomm) Eudora 6.2 wouldn't work on the new system (surprise, surprise!) I also had to settle on an alternative email program.
Schedule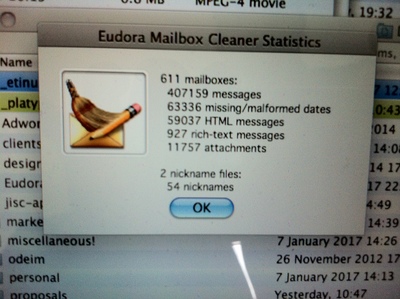 downloaded Thunderbird 17 (to replace Eudora) and made sure it worked on current operating system (thanks to http://www.oldapps.com/)
used Eudora Mailbox Cleanup to convert all mail (and fix) so it could be imported to Thunderbird (thanks to Andreas Amann, http://www.andreasamann.com/MacOSX/Eudora_Mailbox_Cleaner)—it wasn't perfect but I couldn't have converted all my email without it
made a final backup of current hard disk to Time Machine
removed hard disk and memory and replaced them with new solid state device and memory (thanks to YouTube videos for confirming what is an easy process—with the right tools of course)
installed El Capitan on the new solid state device by booting from an already prepared external USB hard disk
restored data from the last backup by plugging in my Time Machine USB drive when prompted by the Apple install process (took about three hours to transfer)
installed system updates on the new solid state drive and went through each application (I have many) checking for the latest versions for El Capitan system
found and installed other applications that do the same function for those that didn't work
once happy with everything, did a fresh backup of the new solid state device
rebooted and was delighted at how fast, quiet and smart everything came up—definitely like a new machine.

What I've learnt
it was challenging to remember some passwords (though thank goodness for saved prompts and Keychain Access for web sites)
thankfully all completed over a weekend... takes time, thought and process (and some guts!) but the longest part was my Eudora mailbox conversion (about 18 hours, glad I started it on Friday evening)
scrolling on all Mac OS X systems after Snow Leopard seems odd at first as it's the opposite way around to what I'm used to... though after nearly a week, I'm getting there!
the solid state drive is so quiet and uses less energy
this took at least a tenth of the cost of what I would have paid for a new Macbook Pro
should have done it ages ago!
A BIG thank you to George for assisting me through the process and hardware installation... a calming influence!
Now do you think I can upgrade my iPhone 4 as easily? LOL!
1 comment
Christine Cahoon Fri 05 May 2017
I just treated myself to an iPhone 7... works a treat with everything... calendar, music, email etc. Thanks to my MacBook's upgrade and Apple iCloud :-)
Christine Cahoon Mon 20 Feb 2017 updated: Mon 27 Feb 2017
I'm regularly seeing this cobweb spun from my car's wing mirror to the car... every time I wash the car, the spider hides but creates another one after I wash it away. I'm sure you've that problem too.
Anyhow, seeing a cobweb always reminds me of when the web first started, people hadn't a clue what all this web stuff was all about. So when we ran workshops back then, we came up with an analogy to help people understand some new terms:
imagine a crisp winter morning with a heavy dew and you're walking beside a hedge—you can see all the cobwebs highlighted with the dew
so think of this new world like... the hedge is the internet with all the infrastructure (routers, servers, cables...) that directs traffic to flow through with the cobweb being the web sites that spiders, then webmasters created
as you view these cobwebs/webs, you're surfing and looking for the content that's held together by the internet
in developing a web site, there are a few things to consider, such as: planning what content each audience needs to find; provide a good structure to ensure all web pages were linked; ensure there's a uniform style so content is easy to find.
It brought some understanding to those who had back then the new task of creating and gathering content in their organisations for global display.
Decades later, many have grown up with the web but, I'm sure from what I've heard people say (from technical to the general public), there's a lot of confusion on how it all ties together.
And one thing it's taught me (and I continue to learn) is to keep simply breaking down any explanation... don't expect people to understand when you use an internet or, as some would say, a techie or gecky word.
Christine Cahoon Mon 13 Feb 2017 updated: Thu 01 Jun 2017
From the onset of a new site, every owner wants their site to do well especially in search engines. Here's a few Google tools to be aware of when setting up a new site or if you've recently added a lot of new and/or updated content.
For a new web site
To get Google to crawl through a new web site to store key content in its index, submit the web address with this tool:
https://www.google.com/webmasters/tools/submit-url
Google don't make any predictions or guarantees about when or if submitted web addresses will appear in our index, but it's normally done within 12-48 hours.
For a current site
If you've a new, revamped web site and it's about to go live with a new hosting provider, there'll be at least a few old pages in Google's index that need removed. Use the site command in the Google search tool to find out the old pages that are in the index, for example:
site:www.oldwebsite.com
Go through the list and identify them, then add the old pages using this tool:
https://www.google.com/webmasters/tools/removals
If it's a short list, add each one and Google will check that the page has been deleted and then remove the cached result and snippet from its index.
The old site's webmaster may receive a notice from Google that an outdated page removal was sent for those web addresses.
Request to recrawl and reindex
However, to ask Google to recrawl and reindex your web address, you will need access to the site's Google's Search Console, where you can use Google's Fetch as Google tool. Once a web address is submitted, there is an option to have that one web address crawled or it and all its links. For more information, see:
https://support.google.com/webmasters/answer/6065812?hl=en
These are just some of the tools we use to make sure your site is visible for the start. If you've any questions, don't hesitate to contact us.
Christine Cahoon Thu 19 Jan 2017 updated: Tue 07 Mar 2017
This question came from a client whose elderly relative had reached retirement and wanted to do something new.
The drive these days is to do things online, get a domain and start advertising, but how do you choose a company name and therefore, a domain name. Here's some thoughts to consider:
your name will be well known so it may be appropriate to include your surname
if there's an acronym that companies you wish to target are familiar with, for example HS for health and safety, that could be included
you may want to make the domain name generic enough to include services that your company can and will offer
do an appropriate Google search to see what company names and domain names your competitors are using locally (and/or further afield)... you'll see some haven't included anything they are doing in their domain name
keep your potential clients in mind when choosing a domain name and what will make sense to them
Remember you know the market well and the problems companies face that you can solve and, if you already have a good reputation, your past work will stand for you. Good luck!
1 comment
Christine Cahoon Tue 07 Mar 2017 updated: Wed 29 Nov 2017
If you want to know more about choosing a domain name, check out these resources:
How to Choose the Right Domain Name
Blog starter, a site I was directed to recently—How to name your blog offers a simple guide for beginners looking to choose a domain name for their own blog. It also provides free email support to all of its readers.
Christine Cahoon Wed 29 Jun 2016
This is a good web site to check if you are the only one having a problem viewing a web site or if everyone is:
http://downforeveryoneorjustme.com/
In the text box displayed, add the site's web address you're having problems viewing and hit return.
It'll refresh to say if it's you or everyone has the problem.
1 comment
Christine Cahoon Fri 06 Jan 2017
Also this free service allows you to view a web page securely from its platform: https://www.megaproxy.com/freesurf/. Helpful if you want to see how a page looks that has been recently updated.
Christine Cahoon Tue 03 Feb 2015 updated: Wed 04 Feb 2015
Are you too busy running your own business to add content to your web site so it's looking a bit dated?
There's two simple things that you can do:
That will make your web site look more dynamic *and* informative.
Here's an example from one of our recent clients, Konnexion—the twitter stream is on the home page and there's a newsfeeds section on the site.
Just follow the links above to help you get started or if you'd like more information, don't hesitate to contact us.
Note: within ETINU there is an option to enable administrators to place the twitter icon within the banner or footer of the web site. But it needs a visitor to select the icon to view your tweets in a separate window.
Christine Cahoon Wed 16 Jul 2014 updated: Thu 17 Jul 2014
The interface of Google Analytics keeps changing so I thought it worthwhile to update one of an old presentation slide to give folk a better idea where and what everything is. See the attached PDF file, take a look at the screenshot and use the legend within to walk yourself through. Now you'll be able to know what parts of the screen are:
account controls;
report navigation options;
controls for Advanced segments, the Metric group selector, the Secondary dimension selector, table controls...;
graph & visualisation controls;
options to share and customise reports;
and find out more using the ever useful contextual help!
If you're interested in attending the workshop, "Getting the most out of your Google Analytics", don't hesitate to contact us.
Christine Cahoon Wed 04 Jun 2014 updated: Fri 31 Oct 2014
The Googlebot won't re-index your site as soon as you make a change as it's indexing billions of pages and that takes time. So to find out when a page was last indexed:
-- search for your site on Google and when it shows on the search results page, select the down arrow against the web address and select 'Cached'. See the screenshot 'Cached page in Google'.
-- the page refreshes to display the web page with a grey bar at the top. Included in the box is the date the page was last indexed. See the screenshot 'Cache date'.
Christine Cahoon Fri 22 Nov 2013 updated: Mon 12 Mar 2018
It's surprising how few know how to track their marketing campaigns, whether it's email, facebook, twitter or whatever.
If you use Google Analytics to monitor your web traffic then this simple Campaign URL builder tool from Google will help you keep track of how successful each campaign is.
Once you've filled in the form and submit, the page returns with a web address you can use in the appropriate campaign. This web address will contain what you've specified to identify your campaign such as the source, medium, campaign name.
Your Analytics will then track the various campaigns and you can see how successful each has been. You will see the statistics under the Acquisition -> Campaigns reports. See screenshot as an example... you can see that the lowest bounce rate (percentage of those who go to the web site and leave in comparison who stay), almost the highest number of pages per visit read and longest average visit duration has been achieved from the Netskills news email campaign.
Note: if you don't use Google Analytics and your web site is hard to manage in that it's not easy to add the GA code to every page, consider using ETINU to build your own web site and have all the content management, monitoring and marketing potential easily available in your web site.
1 comment
Christine Cahoon Fri 06 Jan 2017 updated: Tue 13 Mar 2018
Christine Cahoon Fri 20 Sep 2013 updated: Thu 28 Aug 2014
Maintaining your web site should be easy so if you're having trouble whether it's wanting to have a simple way for users to register, sending a mailshot to them, adding new sections, uploading images optimised for the web, adding timely news items, writing a blog, presenting photos in a slideshow... find out about ETINU, our content and user management software.
Have a look at some of its features illustrated in this recent YouTube video in our ETINU channel. Or a brief introduction by some of the staff.
If interested in knowing more, go to the ETINU web site and set up a new web site to find out all the features yourself or contact me through our contact form and I'll get back to you.
1 comment
Christine Cahoon Thu 28 Aug 2014
Christine Cahoon Mon 05 Aug 2013 updated: Tue 03 Jun 2014
Recently I received an email from a client saying that they'd been advised by an advisor from a local government agency to get a mobile version of their web site because they might be losing a lot of traffic and what could we do.
But what does Google Analytics say?
My first thought was "let's do some homework... what does Google Analytics (GA) show?" After reviewing the site's GA with the client, we realised that the site was performing well on desktop, mobile and tablet. We viewed Mobile overview report found under: Audience > Mobile > Overview.
For the month 25 June - 25 July it displayed the desktop, mobile and tablet visits. They showed:
mobile visits have less pages per visit (3 pages as opposed to 4.25 for desktop)
Average Visit Duration is less (1:28 for mobile compared to 3:28 for desktop)
the Bounce rate (those who leave the site as soon as they have visited the site) is about the same at 52%-53%.
But it's worth comparing traffic over time so selecting the date range of around 3 months from 1 May - 25 July 2013 and comparing the same time last year within the same report showed interesting trends:
traffic accessing the site using a desktop is down 35%
mobile up nearly 107%
tablet is up 131%.
Comparing the % of new visits shows that accesses by mobile are down 28.25% but up for tablets by 24.92%. So tablets are more on the increase!
It's also worth reviewing what pages mobile users view when they come to the site and how they leave the site. The Visitor flow report is useful and is found under Audience > Visitors Flow. The Mobile Traffic was selected and it shows that most have viewed the home page and moved to other sections or the support page to submit a query or get contact details. This would be what's expected from this site.
This site is for a Nursery and most parents like to talk to those who will take care of their children!
But what's the first steps on getting a mobile site?
If your site's GA show that you should invest in a mobile site i.e. you are losing a lot of traffic when people access your site using mobiles or tablets, what do you do? If you've a lot of content, you don't want to double the amount of work you do by maintaining two sites.
It's essential that you plan what needs to go into your mobile web site. They have to be lean and only display the content of what the visitor needs so that it conveys your most important messages. With the Nursery site, it would be a summary of the services they offer and contact details. Then have links to more information accessible, if needed.
If you have any questions or need any help finding out what your Google Analytics is displaying, don't hesitate to contact us.
Christine Cahoon Thu 25 Jul 2013 updated: Tue 03 Jun 2014
It's worth remembering when you are revising content on your web site that you should also revise the title and description for each page. These should summarise each page's content and contain keywords that are also in the content of each page.
Too often we forget that it is the titles and descriptions that are displayed in the search results when visitors do a search (whether it's on Google, Bing, Yahoo...) so it's important that they are revised often and describe what each page contains. Otherwise when people do a search, you:
may attract the wrong audience so they will automatically leave your site (creating a bounce being recorded in your Google Analytics) or
you may not attract any audience at all.
That's some homework for you! :-)
Christine Cahoon Tue 28 May 2013 updated: Tue 03 Jun 2014
If you'd like to keep up with the latest changes in Google Analytics or want some tips on using it, we've set up a web site that complements the "Getting the most out of Google Analytics" workshop.
Recently we've posted news items and blogs which may interest you... the topics cover:
If you've any questions about Google Analytics or the topics above, please don't hesitate to contact us.
Christine Cahoon Fri 26 Apr 2013 updated: Tue 03 Jun 2014
Last Thursday, 18 April, I called at the office of John Kirk, Corpus Linguist and Dialectologist, on his request to set him right about creating a web site for his work. He was told by his colleagues it was easy but didn't know where to start.
Before I left his office, his domain was registered and hosted on our servers, the web site was set up and some content added. By the end of the day, the style has been tweaked to match the logo and colours John requested. Over the next few days John added the content and it's now ready to launch.
John says: "The site was set up in no time at all with colours and style as requested—the result, elegant simplicity. Useful advice was offered in the process regarding content, privacy and optimising my site for search engines.
It's been a sterling job—couldn't have wished for better help and attention over a great many pernickety textual details including formatting, acute accents, Polish characters, etc."
The result? have a look at John M Kirk's web site.
For me, Christine: I love the fact ETINU makes it easy for people to get started. Eyes light up when they can add their own content and photos without having to learn anything new more than filling in a form. And in making it happen, we make life a little bit easier!
Christine Cahoon Wed 20 Mar 2013 updated: Tue 03 Jun 2014
Recently a client wanted to embed one of their ETINU web site sections into another web site. This meant that the content of that section had to be displayed within the new site without any page headers, backgrounds, menu or footer of the other site.
Their own site contained a training catalogue using the 'resources' section type. ETINU had been used to build this catalogue bringing together training resources available to the UK education sector into one place. Staff are able to easily add/edit and remove a training resource and individually categorise each resource in the catalogue. Now since it is maintained using ETINU, it is automatically updated and appears as an integral part of the new site (in this case it's a Moodle1 site but it can be any site).
So how is it done... when it was first setup, the URL that's displayed at bottom of catalogue section gets copied and pasted into an iframe element on the other site. That's it!
The first screenshot shows the content in the web site. And the second screenshot showing the same training resources when a student has selected the Elearning package option within the Moodle site.
This functionality is only available with "Resources" and "Properties" section types at present but can be easily arranged for other types if required.
1Moodle is used extensively within the education sector to help educators create online courses and collaborate with their students. However, maintaining a catalogue of training resources that are within and outside of Moodle is time-consuming to compile.
Christine Cahoon Tue 22 Jan 2013 updated: Tue 03 Jun 2014
Someone has visited your web site... they like what they see... they want to be notified of any news. What do they do, follow you on twitter, check if you're on Facebook, drop you an email. On sites that are created by ETINU, visitors can simply register their name and email address. Then web site owners can use the mailshot facility from a private section on their web site to email them and other registered users just by typing in a message subject and content into a simple online form. They can send information about special offers, planned events, improvements to your web site or news that they think may be of interest to them.
But... say you know those who have registered and you know they are interested in a particular service. Within ETINU a separate group can be created and the names of those registered users can be added to that group. When you are ready to send a mailshot, you can select that group so they only receive the information that is relevant to them. It stops users being irritated by unwanted emails and gets the information to the right audience.
One of our clients, Karen Baines from Templemore Aquatic Sports Club, has found it useful:
"Registration is easy for our members and the approval process is straightforward. We send out mailshots to advertise fund-raising events, changes in swimming events, reminders about membership fees and notice of holiday closures. It saves a lot of time and admin work."
Information is available on the mailshot facility in the briefs section of the ETINU web site.
If you would like a demo on how to use the mailshot facility or to use groups, please do not hesitate to contact us.
Christine Cahoon Wed 16 Jan 2013 updated: Tue 03 Jun 2014
All our clients sites have the Google Analytics code set up when they are first created with ETINU. Clients can view their reports and monitor traffic to their site and visitor's behaviour from their own account. Although understanding where all the reports are within GA has always been a challenge especially for those new to it.
It looks like Google has appreciated the interface had its problems. One was that there was a Home button but when you first logged in you would automatically be in the 'Standard Reporting' section.
Today there's been a couple of changes which makes a little more sense when viewing your statistics. Below are the changes I've noticed:
'Standard reporting' menu item is now replaced by 'Reporting'
'Home' is no longer there but its reports have been moved to the new 'Reporting'
a house icon is on the main menu and, when selected, displays all the profiles in the accounts list
'Custom reports' menu item is now replaced by 'Customisation'
the dashboard layout is now clearly spaced out within the page, more readable
dashboards, shortcuts and intelligence alerts are now listed within 'Reporting' on the left hand side under heading 'MY STUFF' (although the first report that is displayed is still Audience > Overview)
in the main menu, when you select the profile to show all the profiles in the accounts list, it displays the most recent profiles you've viewed at the bottom of the list... handy!
'Advertising' reports are now available in 'Traffic Sources'
'Real-Time' reports are now at the top level of 'Reporting' (they were in 'Home')
Any more anyone has noticed? Hopefully there will be more intuitive improvements throughout 2013.
A good summary is available at: Dan Baker's blog, Nine Google Analytics Changes
And while I'm on the subject of GA, here's: 53 alternatives to Google Analytics!
Christine Cahoon Sat 05 Jan 2013 updated: Tue 03 Jun 2014
When it comes to viewing web pages people are more inclined to just read headings and the first line of each paragraph. So it's worth making key messages on your site clear and succinct. That's why this latest addition to ETINU can help... billboard.
See, for example, the home page of the ETINU, http://www.etinu.com web site, or one of our client's home page, JISC Advance.
The billboard is a dynamic page element that can be added easily to any web page on a site that's using ETINU. You can add each billboard's content easily too. It contains one or more posters which display in repeating order. Each poster can contain a photo (no resizing required, the system does it for you), heading, text and a 'More...' link that visitors can select if they want to know more.
If you'd like to know more about billboard, see the billboard reference material.
If you'd like a demo of ETINU, don't hesitate to contact us through the online form or call us on +44 79 7999 2552 and we'll arrange a demo on a date and time that suits you.